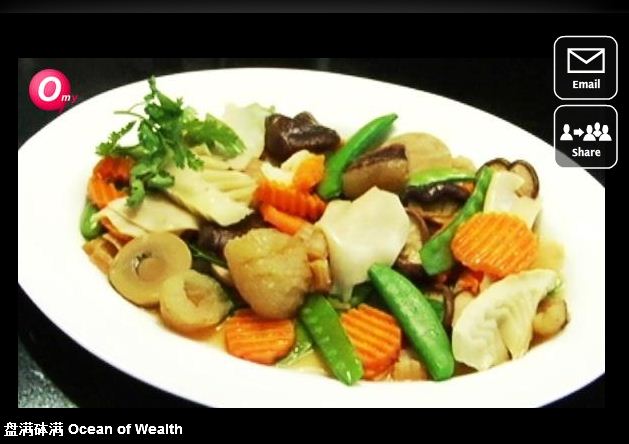 Ingredients
500g sea cucumber rinsed and slices thick
4 pieces dried scallop (soaked in hot water)
100 gm winter bamboo shoot (wedge cut, blanched)
80 gm design cut carrot slices
10 dried shitake mushrooms, pre-soak to soften cut into halves
100 gm sweet peas (pre-blanched in boiling water)
100g vegetarian abalone, sliced
Sauté ingredients:
2 thick sliced ginger
2 pips garlic slices
2 tablespoon cooking oil
1 tablespoon Chinese Hua Teow wine
Serving Sauce: (combine)
500 ml hot chicken broth
1tsp oyster sauce
1 tsp superior dark soya sauce
½ teaspoon sesame oil
½ tsp sugar to taste
Some pepper & salt to taste

Thickening:
1 tablespoon potato starch (mix into 100 ml soaked dried scallop stock)
Garnishing:
Chinese parsley, red cut chilli shreds and lettuce leaves
Steps :
1. Place the sea cucumber and ginger in the pre-heated CORNELL Multicooker and stir-fry without oil until almost dry. Drizzle a teaspoon of Chinese wine, stir mixing briefly, remove and set aside.
2. Reheat multicooker, add in soaked scallop grill until fragrant. Add in the garlic & ginger slices, sauté until lightly golden.
3. Add in soaked mushroom and bamboo shoot wedges and stir-fry briefly over high heat. Drizzle a tablespoon of Chinese wine along the side; add in the hot chicken broth. Mix and stir thoroughly, and return to a boil.
4. Cover and cook over a medium low heat for about 20 minutes or until sea cucumber is tender. Add in the sliced abalone and green peas. Thicken with cornstarch solution. Garnish with Chinese parsley, red cut chilli shreds. Dish out on bedded lettuce leaves. Serve hot.