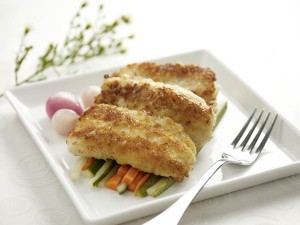 Ingredients:  (Makes 4 servings)
800g white fish fillets (or Dory fish)
1 cup Milk Tea (use 1 sachet into cold milk) (for Pre-soaking fish fillets)
3 tbsp vegetable oil
Crumbs Coating Mix:
2 cup (250 mL) bread crumbs (white and golden crumbs)
1/4 cup grated Parmesan cheese
1 sachet Milk Tea
1 tbsp Pepper Seasoning Salt
2 beaten eggs (for bread crumbs coating)
Method of preparations:
1. Pre-soak fish fillets in chilled milk tea for about 1 hour in the refrigerator. Preheat oven to 190° C.  Line baking tray with baking sheet.
2. In a mixing bowl combine bread crumbs, Parmesan cheese and Pepper Seasoning salt stir mix well.
3. Remove fish fillet from milk tea and drain milk tea thoroughly.  Pour beaten eggs into a small bowl. Working with one fillet at a time, coat both sides with beaten egg   mixture, then drop into the bread crumb mixture and coat well. Place on the prepared baking sheet. Repeat with the remaining fillets.
4. Bake for 10 minutes, turn fillets over and continue to bake for another 8 to 10 minutes or until the fish is well done. Serve with lemon wedges and salad greens.