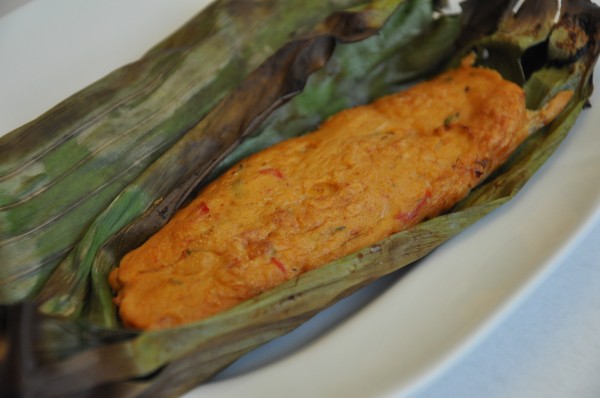 Baked Seafood Otah Recipe
Ingredients:
Dancing Chef Thai Seafood Sauce – 1 Packet
Fish Paste (Unsalted) – 300g
Coconut Milk – 100g
Water – 80ml
Egg (Beaten) – 1
Shrimp – 250g
Kaffir Lime leaf (Cut into thin slices) – 2 Pieces
Corn Flour – 1 Tablespoon
Banana Leaf
Method:
1. Pour all ingredients into a big mixing bowl and mix well.
2. Place 3-4 tablespoons of the mixture into the banana leaf and wrap it up.
3. Place the wrapped banana leaf into the Cornell Tabletop Oven and bake at 200 Degree Celsius.
4. Alternatively, pour the mixture into a steaming plate and steam till cooked, and it's ready to serve.
烘海鲜乌打 
用料:
佳味泰式海鲜酱  –  1包
鱼肉 (无盐)  –  300克
椰浆  –  100毫升
清水  –  80毫升
鸡蛋  –  1粒 (打散)
虾仁  –  250克
酸甘叶  –  2片(切丝)
生粉  –  1汤匙
香蕉叶
做法:
1.将全部用料放入大碗里,一起拌匀。
2.将用料约3 – 4 汤匙,用香蕉叶包住。
3.放入Cornell烤炉烘熟,用200度。
4.也可将用料倒入蒸盘蒸熟即可。