3 simple steps to cook yourself Beauty Nutrition Soup at home now!
Ingredients:
1 kampung chicken (Removing the head and foot)
Sub-ingredients:
40g dried lily bulb (soaked), 50g tremella lotus (soaked), 50g white fungus (soaked), 40g dried longan flesh, 10 red dates (seedless), 1 dried mandarin skin , some dried roses (blanch with hot water, drain)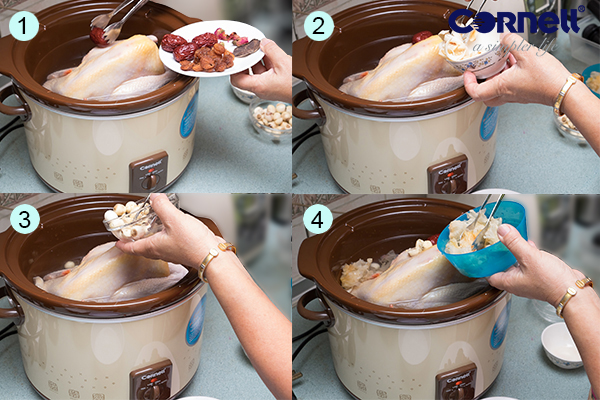 Method:

Place chicken and all sub-ingredients into CORNELL Slow Cooker, pour in water which can cover all ingredients.(pic 1-5)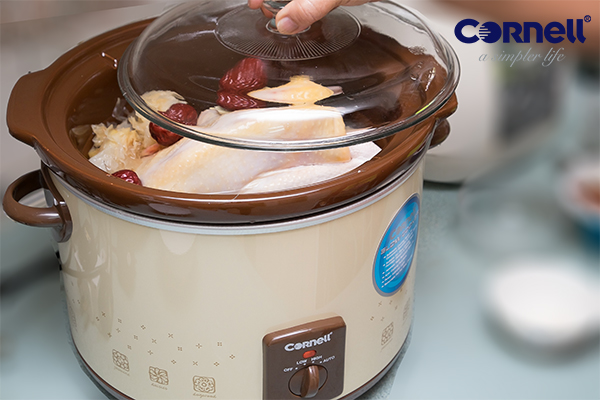 2. Press "High" button and bring to boil, turn to low heat, continue cook for one hour.
3. Add in blanched roses and season with some salt, done. Serve hot.
Recommended product: Cornell Slow Cooker CSC-D35C, click here to read more.
润肺养颜汤食谱
只需3步骤就能轻松的在家想用这润肺养颜汤了。
材料:
菜园鸡1只(去头及脚)
配料:
干百合40克(浸软)、白莲子50克(浸软)、白木耳50克(浸软)、龙眼干40克、红枣10粒(去核)、陈皮1小片、干玫瑰花适量(用热水浸泡沥干)
做法:
将鸡肉及全部配料(干玫瑰花除外)放入Cornell慢炖锅内,注入清水盖过材料。(图1-5)
按"High"键煮至滚后转小火,继续煲1小时。(图1-4)
加入干玫瑰花及适量盐调味。趁热享用。此食谱使用Cornell Slow Cooker 慢炖锅 CSC-D35C,点击这里查询更多Beauty Nutrition Soup Recipe is featured in Oriental Cuisine Magazine Issue May 2016.