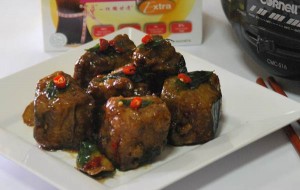 Ingredients
Devil ray 600g
Ginger 20g
Garlic 20g
Red chili (chopped) 2
Hot chili (chopped) 10
Curry leaves 6
Soy sauce 1tbsp
Oil 3tbsp
Marinate fish
Coriander powder 1tsp
Pepper 1/4tsp
Turmeric powder 1/2tsp
Salt 1/2tsp
Seasonings
Fruity Lite 2
Oyster sauce 3/2tbsp
Sugar 3/2tbsp
Sesame oil 1tsp
Water 6tbsp
Methods
1. Wash devil ray and cut into pieces. Add in seasonings and marinate for 30 minutes.
2. Add in 1 tsp of cornstarch, mix and fry with hot oil till cooked.
3. Heat Cornell Multi-cooker, fry ginger, garlic, chili, curry leaves till it's fragrant before adding seasonings to boil.
4. Pour in devil ray to fry and it's ready.
酸柑清魔鬼鱼
材料
魔鬼鱼 600克
姜片 20克
蒜片 20克
红辣椒(切碎) 2
指天椒 (切碎) 10条
咖喱叶 6支
生抽 1汤匙
油 3大匙
腌鱼调味
芫茴粉 1茶匙
胡椒粉 1/4茶匙
黄姜粉 半茶匙
盐 半茶匙
调味料
酸柑清 2包
蚝浊 3/2汤匙
糖 3/2汤匙
麻油 1茶匙
水 6汤匙
做法
1. 将魔鬼鱼洗净后切块,加调味料拌匀,腌30分钟。
2. 加入1汤匙生粉拌匀,用热油炸熟取出。
3. 烧热Cornell万能锅,用油炒姜片、蒜片、红辣椒、指天椒、咖喱叶。炒香后加入调味料煮滚。
4. 倒入鱼块炒匀即可。