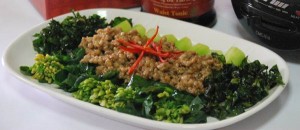 Ingredients
China Kai Lan 500g
Kai lan leaves (shredded)80g
Minced meat 100g
Garlic 1tsp
Dried shrimp (chopped) 1tbsp
Turbidity 3tbsp
Waist Tonic 2tbsp
Red chili (shredded) 2
Seasonings
Sesame oil 2tsp
Chicken stock powder 1tsp
Sugar 1tsp
Water 80ml
Thickening
Water 1tsp
Cornstarch 1/2tsp
Method
1. Shred Kai lan leaves, use hot oil to fry till crispy before draining the oil.
2. Blanch Kai lan, remove and place in plate.
3. Use oil to fry garlic, shrimp and add in minced meat and fry in Cornell Multi-cooker till fragrant.
4. Add in waist tonic and seasonings to fry before thickening.
5. Lastly, place minced meat on kai lan and add on shredded kai lan.
6. Garnish with red chili.
材料
中国芥兰 500克
芥兰叶 (切丝) 80克
猪肉碎 100克
蒜蓉 1茶匙
虾米碎 1汤匙
浊 3汤匙
补腰精 2汤匙
红辣椒(切丝) 2条
调味料
蚝油 2茶匙
鸡精粉 1茶匙
糖 1茶匙
水 80毫升
勾芡
水 1汤匙
生粉 1/2茶匙
做法
1. 将芥兰叶切丝,用热油炸脆取出沥干油。
2. 芥兰用热水烫熟后取出,排放在盘里。
3. 鑊烧热,用油炒蒜蓉、虾米,加入肉碎炒香。
4. 加入补腰精炒香,加调味料炒匀,勾芡。
5. 将肉碎放在芥兰上面,铺上芥兰丝。
6. 最后洒上红辣椒即可。