Dan Zhai Fan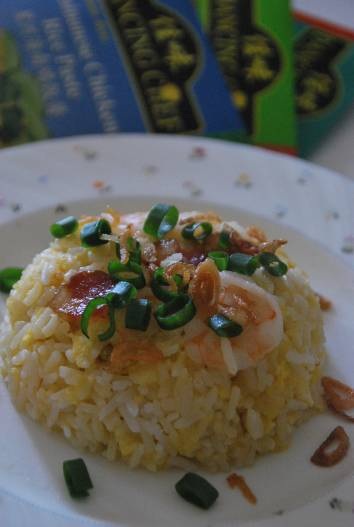 Ingredients:
1 packet Dancing Chef Chicken Rice Paste
3 rice cups Thai fragrant rice
3 Dried shitake mushrooms, wash and diced
3 rice cups Warm water
1 Large beaten egg
2 Tbsp Shallot oil
Garnishing ingredients:
3 tbsp Chopped spring onion
60g Fried diced Chinese sausage
2 Fried shredded egg omelet
3 tbsp Deep fried shallots
Method: Cornell Rice cooker
1 Wash rice, pre-soaked for about 10 minutes. Mix beaten egg into warm chicken stock
2 Mix the soaked Thai fragrant rice into the inner pot of the Cornell rice cooker. Mix in Dancing Chef Hainanese Chicken Rice Paste, diced mushroom and shallot oil, stir mix thoroughly. Add in 580ml warm chicken broth and beaten egg into the inner pot of the rice cooker.
3 Put the inner pot in the rice cooker; close the lid of the rice cooker.
4 Press starts the Rice cook button.
5 Once the cooking is completed, fluff up the cooked chicken mushroom flavored rice and adds in the garnishing ingredients. Serve & Enjoy!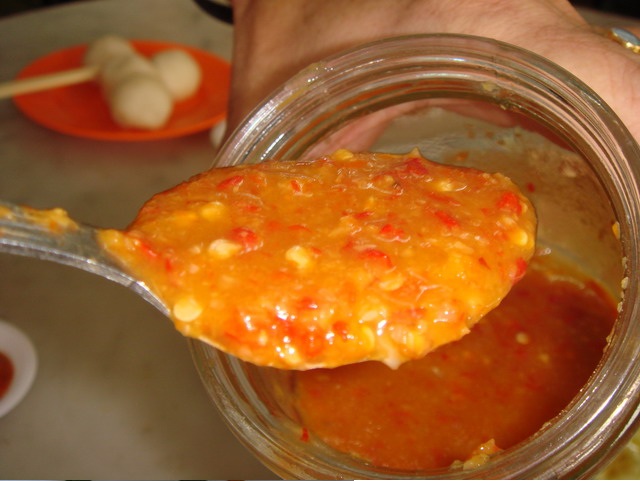 Dancing Chef Chilli Mix Preparation:
2 tbsp Dancing Chef Chicken Rice Paste
10 Fresh red chillies
6 Chilli padi
1 Slice of thumb size ginger
6 Garlic chopped
5 to 6 tbsp Lime juice to taste 
150ml Cold ice water
Some orange sugar to taste
Blend all ingredients together in a food processor, till smooth add orange sugar to taste. That's all!
港式蛋仔饭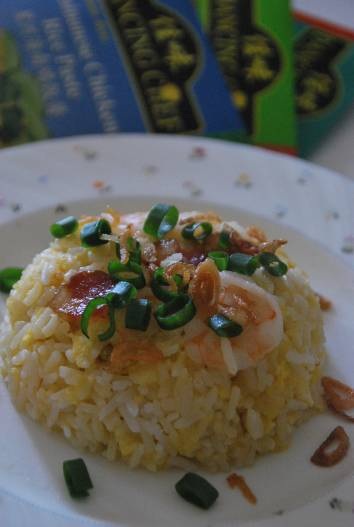 材料:
1包 新洲海南鸡饭酱
3米杯 泰国香米
3粒 干香菇
3米杯 温水
1粒 大的蛋打散
2汤匙 葱油
装饰:
3汤匙 青葱(切段)
60克 腊肠(切丁)
2个 煎蛋 (切丝)
3汤匙 炸葱头
做法:
1. 将米洗过,浸泡在水里10分钟。之后将鸡蛋打散,倒入稍温的鸡汤里。
2. 将泰国香米放入Cornell电饭锅里稍微搅拌。加入新洲海南鸡饭酱,干香菇和葱油,搅拌均匀后,再加入580毫升的鸡汤(温)和蛋液。
3. 将锅放入饭锅内,将盖关上。
4. 按下'开始'的键钮,饭锅就会开始煮饭。
5. 一旦饭煮好了,把好了的鸡肉香菇饭给弄松,加入装饰材料即可上桌。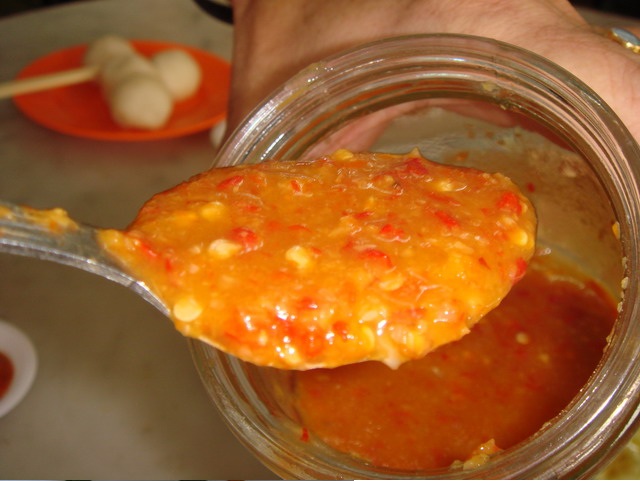 佳味辣椒酱材料:
2 汤匙 新洲海南鸡饭酱
10条 鲜红辣椒
6条 小辣椒
1 片 姜(拇指般大小)
6 粒 蒜头 (剁碎)
5-6 汤匙 柠檬汁 (依个人口味)
150 毫升 冰水
少许 橙汁(依个人口味)
将材料加入搅拌机搅混至均匀,滑顺后加入橙汁调味即可!