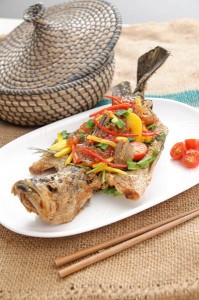 Ingredients
1 (800G) Snapper Fish (Medium Whole)
2 tbsp Thai fish sauce
½ sachet Double Shot Instant White Milk Tea
½ cup Rice flour
½ cup Plain flour
Cooking oil for frying fish
2 Mangoes (firm unripe – julienne)
1 cup Canned Peaches (julienne)
6 Red Bird's Eye Chillies (coarsely minced)
½ cup Roasted Peanuts (coarsely chopped)
Some Coriander Leaves
Peach Jam Dressing:
5 tbsp Peach Jam
1/2 cup lemon juice
8 shallots (sliced)
4 garlic (finely minced)
6 cherry tomatoes (chopped)
3 tbsp fish sauce (to taste)
2 tbsp palm sugar syrup
½ tsp salt (to taste)
For Garnishing: Some coriander leaves & 1/2 cup coarsely chopped roasted peanuts
Method:
1. Rinse the fish and pat dry. On a cutting board make 3-4 cuts on each side of the fish with a sharp serrated knife. This allows the marinate and sauce to penetrate, and the fish more tender. Marinate fish with Thai fish sauce and Double Shot Instant White Milk Tea for at least 20 mins or up to 3 hours for better result.
2. Dredge fish in rice flour and plain flour mixture to coat before deep frying. Heat oil over medium-high heat, fry the fish undisturbed, for at least 5 mins per side (may be longer depending on thickness of fish) or till outer skin turns golden-brown and well cooked.
3. Mix all 'Peach Jam dressing ingredients' in a bowl. The dressing should be a mingling of sweet, sour, spicy and salty taste, but it should taste more sweet than sour. Once it is done, set aside for later use. Then, toss mango, peach and bird's eye chili together with the salad dressing and add more Peach Jam according to taste.
4. Lastly, place crispy fried fish on a serving platter and top with mango peach salad, roasted peanuts and coriander leaves. Serve & Enjoy!
材料:
红鲷鱼(一条 ) 800g
泰式鱼露 2汤匙
既溶特浓白奶茶 1/2 包
青芒果(切丝) 2粒
罐装蜜桃(切丝) 1杯
指天椒(切碎) 6条
香菜叶 些许
花生碎 1/2 杯
炸鱼沾料:
米粉 1/2 cup
面粉 1/2 cup
油 适量
桃子沙拉酱材料:
桃子酱 5汤匙
柠檬汁 1/2 杯
青葱(切片) 8根
蒜头(剁碎) 4瓣
樱桃番茄(切丁) 6粒
鱼露(依个人口味) 3汤匙
棕榈糖浆 2汤匙
盐(依个人口味) 1/2 茶匙
做法:
1. 将鱼洗净拍干后,用刀在鱼身两侧划3至4刀,抹上腌料。这使腌料可以融入鱼肉里,也让鱼肉更嫩。将鱼露和既溶特浓白奶茶抹上鱼身,腌制20分钟。
2. 将鱼的两面均匀地沾上面粉和米粉。用中上火在锅里热油,之后放入红鲷鱼,各边煎5分钟(根据鱼的厚度决定)至表皮金黄色,鱼身熟透。
3. 在碗里将桃子沙绿酱汁材料搅拌均匀。酱汁味道应有甜、酸、辣和咸,不过甜味胜过酸味。搁置待用。
4. 将芒果桃子沙拉酱材料混合后,加入芒果、蜜桃和指天椒,稍微搅拌便可。
5. 将煎好的鱼摆盘,加上做好的芒果桃子沙拉、香菜叶和花生碎,即可享用。