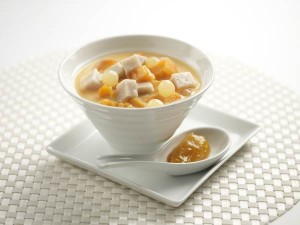 Ingredients:
200g cooked Orange sweet potato (cubed)
200g cooked Taro (cubed)
20g cooked large sago pearls
Kaya Milk Base Cha Cha
2.5 litre hot water
1 bottle Kaya (450g)
100g rock sugar (to taste)
400g thick coconut milk
1/4 Tsp salt
Method:
1. Peel cut potatoes and taro into cubes.  Steam, separately until well cooked.  Boil sago separately, until translucent and cooked.
2. Bring 2.5 litre of water to boil, add in the rock sugar and salt cook over medium heat in Cornell Multi-cooker until the sugar dissolved.
3. In the boiling sugar stock, add in kaya, thick coconut milk and cook over low heat Cornell Multi-cooker about 5 minutes.
4. Finally add in the cooked sago pearls, potatoes and taro cubes, stir mix well.  Serve hot or cold as you like.
材料:
橙色红薯(切块,已煮过)        200克
芋头(切块,已煮过)                 200克
西米珍珠(大,已煮过)         200克
咖椰奶底:
热水                          2.5公升
咖椰                       1罐
冰糖 (以个人口味)                  100克
醇厚椰奶                       400克
盐                            ¼ 茶匙
步骤:
1     将红薯和芋头切块后,蒸熟。另外将西米珍珠在滚水里煮熟至透明。
2     在锅内将2.5 公升的水煮滚,加入冰糖和盐,用Cornell万能锅用中火煮至糖溶化。
3     之后在滚热的糖水中加入咖椰,醇椰奶,用Cornell万能锅用小火煮5分钟。
4     最后加入西米珍珠,番薯和芋头块,搅拌均匀。可以冷热食用。