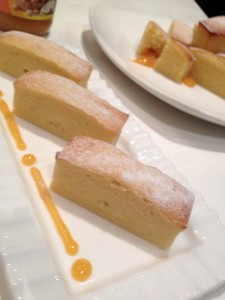 Kaya Pound Cake- English
Ingredients A
100gm Sour Cream
100gm Nonya Kaya
Ingredients B
120gm Cake Flour
½ tsp Baking Powder
Ingredients C
110gm Butter
100gm Sugar
1 No Egg
1 tsp Vanilla Essence
Method
1)      Mix Ingredients A and set aside.
2)      Sift Ingredients B and set aside.
3)      Beat butter and sugar from Ingredients C till light and fluffy.
4)      Add in egg and vanilla essence. Mix well.
5)      Slowly add in sifted Ingredients B and alternate with the kaya mixture.
6)      Pour batter into a piping bag and pipe batter into a financier mould.
7)      Pipe the batter halfway up the mould, pipe some additional Nonya Kaya and top it off with some more batter.
8)      Bake in a 180ºC oven for about 15 – 20 minutes till cakes are golden brown.
Kek  "Pound Frezfruta Kaya"- Malay
Bahan A
100gm  "Sour Cream"
100gm "Frezfruta Nonya Kaya"
Bahan B
120gm Tepung Kek
½ sudu teh Serbuk Penaik
Bahan  C
110gm Mentega
100gm Gula Kaster
1 biji telur1 sudu teh esen Vanilla
Cara
1)      Campur Bahan A bersama dan ketepikan.
2)      Ayak Bahan B dan ketepikan.
3)      Pukul mentega dan gula (Bahan C) sehingga ringgan.
4)      Masukkan telur dan esen vanilla. Gaul rata.
5)      Dengan perlahan, masukkan Bahan B dan Bahan A, berselang seli.
6)      Masukkan adunan ke dalam "piping" bag dan picitkan sedikit adunan ke dalam acuan  "financier" dan isikan setengah dahulu.
7)      Masukkan sedikit lagi  "Frezfruta Nonya Kaya" dan penuhkan acuan dengan adunan lagi.
8)      Bakar di ketuhar dengan kepanasan  180ºC selama 15 – 20 minit sehingga warna kek keperangan.