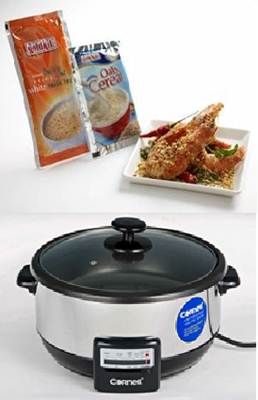 Ingredients:
Medium Size Prawns 500 gm
Crisp Cereal Flakes 50 gm
Gold Kili Instant Oats Cereal 1 sachet
Bird's Eye Chillies (cut) 6
Fresh Curry Leaves 10
Butter 4 tbsp
Coating mix for frying prawns
Self Raising Flour 1 cup
Gold Kili Instant Double Shot White Milk Tea 1 sachet
Seasoning for prawns
Salt 1 tsp
Sugar (to taste) 1 tsp
Gold Kili Instant Double Shot White Milk Tea ½ sachet pack
Fresh Milk 1 cup
Method
1. Trim off the eyes, feelers and legs of prawns, devein but with shell intact, pat dry.
2. Marinate with Seasoning for about an hour or more. Next, keep in the refrigerator.
3. Drain prawns thoroughly, then lightly toss prawns in beaten egg. Next, drop the prawns into coating mix. Make sure the prawn is coated with a layer of mix. Heat sufficient oil in Cornell Multi-cooker, deep fry the prawns in hot oil. Dish out once the shells change colour. Drain excess oil.
4. Wash the wok clean, heat up and add in the butter.
5. Once the butter has melted, add in the chillies and curry leaves. Stir-fry briefly.
6. Toss in the cereal flakes, Instant Oat Cereal and mix well. Return the pre-fried prawns into fried cereal mixture. Stir-fry briefly and dish out. Serve and Enjoy!
奶茶脆麦虾
材料:
虾(中) 500克
麦片 50克
金麒麟即溶燕麦麦片 1包
指天椒 6条
咖喱叶 10片
牛油 4汤匙
炸虾沾粉:
低筋面粉 1杯
Gold Kili'Double Shot' 白奶茶 1包
腌料:
盐 1茶匙
糖(以个人口味) 1茶匙
金麒麟即溶白奶茶 ½ 包
鲜奶 1杯
做法:
1. 将虾壳保留,将眼睛,触角和脚都剪掉,然后将虾的内脏取出。将虾拍干。
2. 用腌料将虾腌制1小时后,收入冰箱。
3. 之后将虾沥干,放入蛋液轻微搅拌后,沾上沾粉。放入足够的油在Cornell万能锅热,将虾下锅油炸至虾壳呈现橙色即可。将多余的油沥干。
 
4. 将锅洗干净,加热后加入牛油。
5. 牛油溶化后,加入辣椒和咖喱叶。稍微翻炒后。之后放一旁。
6. 在热锅里放入麦片和即溶燕麦麦片翻炒。之后加入虾稍微翻炒后即可。