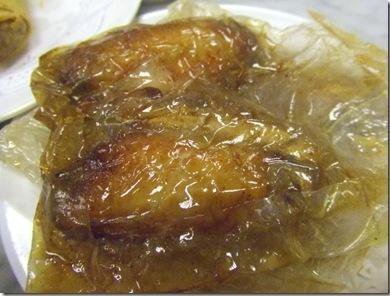 Marinade Chicken seasonings:  (Marinate for about 1 hour)
1 pkt Dancing Chef Meat Marinade Sauce
1 tbsp Orange sugar
2 tbsp oil
2 tbsp ginger wine
1 tbsp sesame oil
1 stalks spring onions (whole crushed stalk use)
1 tbsp potato starch
4 tbsp water
Healthier method of traditional deep fried Paper wrapped Chicken parcel preparation by the Microwave: (without deep frying)
1.                   Marinate chicken slices with the above mentioned marinade chicken seasonings for about 2 hours in the fridge.
2.                   Wrap seasoned chicken slices with "ZHI POW KAI" wrapper bag or greaseproof paper, seal and slit opening slightly.  Seal chicken parcels thoroughly with some oil.
3.                   Then sealed chicken parcels in Cornell Microwave oven for about 7 to 8 minutes over HIGH mode until well done. (Approx.500g each batch)
4.                   Serve healthy paper wrapped chicken with special Chicken Rice Chili sauce.
Variations: 炸煮法请參於示範
You may deep fried paper chicken parcel with oil in the wok or deep fryer of your choice. To wrap the chicken: paper-wrapped chicken is normally wrapped envelope style.  Heat wok and add oil for deep-frying. When the oil is ready, slide the packages in, about 6 at a time so as not to overcrowd the wok. Deep-fry the packets, stirring occasionally, until the chicken is cooked through (about 3 minutes). Drain on paper towels. Continue deep-frying the rest of the packets. Serve the chicken packets on a large platter, garnished with greens if desired. Guests can open the packets with either chopsticks or their fingers. Peanut or vegetable oil for deep-frying.