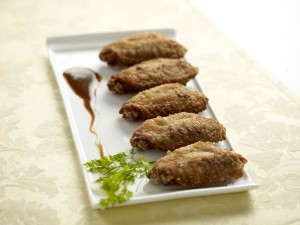 1 kg chicken mid wings
1 sachet Kopi O (Extra Strong)
1 sachet Double Shot White      Coffee
1 teaspoons ginger, freshly grated
4 tablespoon palm sugar, grated to taste
2 tablespoon soy sauce
1 teaspoon L & P sauce
2 tablespoons vegetable oil
4 tablespoon paprika powder to taste
Cilantro leaves to taste (garnish)
Coffee Coating flour Mix:
1 cup self raising flour
1 sachet Double Shot White Coffee
1 beaten egg (for coating)
Coffee Sauce Dip:
(Bring to the boil and add in thickening solution)
1 tbsp olive oil
2 Tablespoons butter
1 cup Kopi O (Extra Strong)
1/3 cup honey (to taste)
2 Tablespoons Worcestershire sauce
1 tbsp Paprika powder
1 tbsp potato starch (mix into 3 tbsp water)
Directions
Rinse chicken wings with cold water and pat dry. Place wings in a large glass bowl.
In a separate bowl combine ginger, palm sugar, soy sauce, vegetable oil, coffee from sachets and paprika powder and stir to evenly combine. Add the wings and toss evenly with the      marinade. Place the wings in the refrigerator and allow them to marinate      for a minimum of 3 hours and a maximum of overnight.
Drain chicken mid wings, deep mid wing      into egg mixture then roll over a light coating of coffee coating flour      mix. Preheat the oven to 200 degrees C.
Place the wings on a baking tray and bake for 20 to 25 minutes, turning them half way through. Wings are done when they look shiny, golden brown and have a bit of a crispy edge around      them.
Serve with mango fruit Jam salad or  coffee sauce dip.