Suan La Portage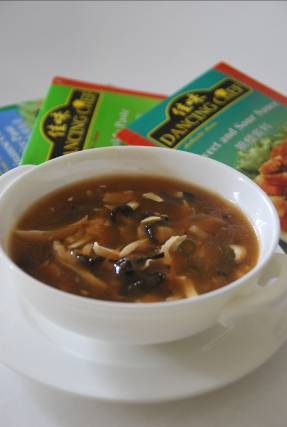 Ingredients:
(A) 1 Packet Dancing Chef Tom Yam Spice Paste
1600 ml Chicken soup  
(B) 100g Mock crabmeat, shredded
100g Cooked chicken meat shreds
150g Winter bamboo shoot shreds
100g Golden needle mushroom
4 tbsp Black vinegar to taste
(C) 4 tbsp Water chestnut powder mix with ½ cup water
1 Beaten egg
Garnishing:
1 tbsp Red Chilli shreds
3 tbsp Chopped parsley
Method of preparations:
1 Bring ingredient (A) to a boil in Cornell Multi-cooker.
2 Add in (B) ingredient and mix stir well and bring to boil. .
3 Thicken soup with chestnut powder mixture (C), then lower heat mix stir in beaten eggs.
4 Serve Suan La portage with chilli shreds and chopped parsley.
京式酸辣汤
材料:
(A) 1包 佳味泰式东炎酱
1600ml 清鸡汤
(B) 100克 蟹卯丝
100克 熟鸡丝
150克 冬荀丝
100 克 金針菇
4汤匙 黑醋
(C) 4汤匙 马蹄粉加入半杯水
1粒 鸡蛋一个
Garnishing:
1 汤匙 红辣椒丝
3 汤匙 芫荽
做法:
1. 將 (A) 料一同煮滚.
2. 注入(B) 料拌均煮滚.
3. 用Cornell万能锅开小火后,將马蹄粉加入半杯水和鸡旦一同拌均勻后, 拌入滚開的汤内. 勾芡后,撒上芫荽和红辣椒丝既可上桌.
4. 加入装饰,即可端上。